Emergency Heating and Cooling / Plumbing Repair Services in
Toledo, OH
Emergency Repair Specialists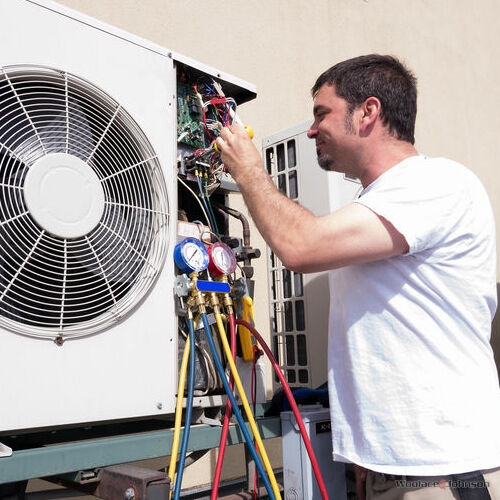 Whenever your HVAC system malfunctions or you suddenly have a pipe burst, you will need experienced professionals to help you as soon as possible. The experienced experts you are looking for are found at Woolace & Johnson. Whether your air conditioner stops working during the hottest part of the year or a toilet backs up late at night, whenever you need emergency HVAC and plumbing repair in Toledo, OH, you can always count on the trusted professionals at Woolace & Johnson. You can reach us for assistance at any time by dialing 419-546-8424.
Our Service Offerings in
Toledo, OH
While you hope your HVAC system holds up when you need it most, under the right circumstances, even the most well-maintained system can malfunction. The whole system is at risk of shutting down if even one part fails. Plumbing problems can occur just as easily: a simple clogged drain, for example, can cause more serious problems if not taken care of promptly. Woolace & Johnson has established its leadership in emergency HVAC and plumbing repair in Toledo, OH by always responding quickly to service requests. Our service technicians can be contacted any time for emergency calls. No matter whether our licensed and experienced technicians are installing a new compressor on your AC or sealing a leaking pipe, you can always expect exceptional service.
Call Us Today
Whenever you are experiencing problems with your heating and cooling system or plumbing, turn to the experienced professionals at Woolace & Johnson for superb results with emergency HVAC and plumbing repair in Toledo, OH. We provide the most extensive selection of HVAC and plumbing solutions available. Give us a call at 419-546-8424 to learn more about us or schedule a service appointment. Never wait to call our team because we are always ready to help.