Emergency HVAC / Plumbing Repair in
Fayette, OH
Emergency Repair Specialists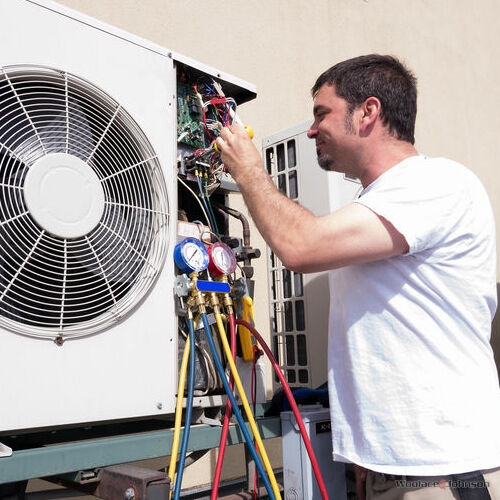 If your HVAC system malfunctions or a pipe suddenly bursts, you'll want a prompt response for repairs from experienced professionals. Woolace & Johnson's experienced experts are the ones you're looking for. Whenever your air conditioner shuts down on a scorching day or you have a toilet backing up in the middle of the night, depend on the trusted professionals at Woolace & Johnson for emergency HVAC and plumbing repair in Fayette, OH. You can contact us for help around the clock by dialing 419-546-8424.
Our Service Offerings in
Fayette, OH
Although you hope your HVAC system holds up when you need it most, under the right circumstances, even the most well-maintained system can break down. The complete system is at risk of shutting down if even a single component fails. Plumbing issues can occur just as easily: a simple clogged drain, for instance, can create more serious problems if not taken care of quickly. Woolace & Johnson has established itself as a leader in emergency HVAC and plumbing repair in Fayette, OH by regularly responding quickly to service calls. When it comes to emergency calls, you can rely on us 24/7 and we will reach you as soon as possible. No matter whether they're installing a new compressor on your air conditioning system or sealing a pipe leak, you can always expect our licensed and experienced technicians to provide extraordinary service.
Call Us Today
Anytime you have a faulty HVAC system or plumbing issues, when you need experienced professionals for emergency HVAC and plumbing repair in Fayette, OH, for superb results, you can always rely on Woolace & Johnson. We provide the most extensive range of HVAC and plumbing solutions available. To find out more about our team or to set up a service appointment, all you need to do is call 419-546-8424. When you need repairs, we are always ready to assist.