Emergency Heating and Cooling / Plumbing Repair Services in
Delta, OH
Emergency Repair Specialists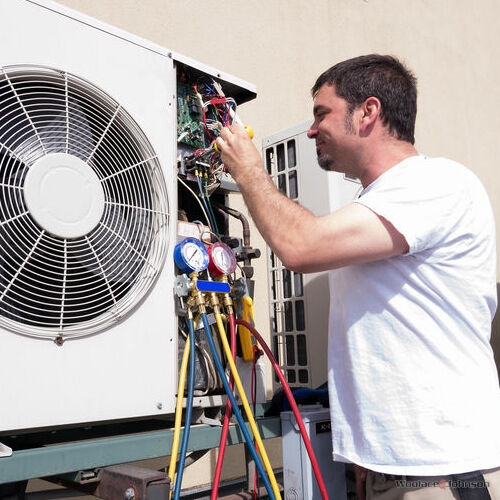 When your heating and cooling system breaks down or a pipe suddenly bursts, you'll want a prompt response for repairs from experienced professionals. The capable experts you are searching for are found at Woolace & Johnson. If your air conditioner shuts down in the middle of the summer or your toilet backs up in the middle of the night, Woolace & Johnson's trusted professionals are the ones to count on for emergency HVAC and plumbing repair in Delta, OH. You can contact us for assistance around the clock by calling 419-546-8424.
Our Service Offerings in
Delta, OH
It's often when you need it most that your HVAC system will break down unexpectedly, even if it is well maintained. Just a single part can break down and the whole system can stop working. If you don't take care of simple problems like clogged drains, your plumbing can be left vulnerable to emergency repairs. Woolace & Johnson's prompt response to service calls has made it a leader in emergency HVAC and plumbing repair in Delta, OH. You can depend on our team 24/7 for emergency services. No matter whether they are installing a new compressor on your air conditioning system or sealing a pipe leak, you can always expect our certified and experienced technicians to provide extraordinary service.
Call Us Today
No matter whether you have problems with your HVAC system or plumbing, when you need experienced professionals for emergency HVAC and plumbing repair in Delta, OH, you can always count on Woolace & Johnson for superb results. Our team offers a comprehensive selection of HVAC and plumbing solutions. To learn more about our team or to set up an appointment, all you need to do is call 419-546-8424. Our team is always ready to assist whenever you want repairs.